What happens when all the bomb women of Atlanta link up?? CREATIVE GIRL HANGOUT HAPPENS! Janee of janeebarbee.com brought out all the creatives to sip margaritas and to show each other some love. Do you know why this hangout stood out from other networking sessions?? Because when a genuine person creates the perfect vibes and stresses forming community, people feel it! All the women who attended were fun and were down to just chit chat about whatever. And we certainly did that while playing ice breaker games and killing the Cami Cakes that were served.
So what took place here? Let's do a rundown of all the fun we had. The event kicked off with a really cool ice breaker that got us talking to each other all while the littiest playlist provided major vibes. So you know that means we had a few mini dance sessions (well, atleast I did). After all that chatting, we worked up an appetite and we were welcomed to a beautiful spread of fruits, desserts, and margaritas. Honestly the thought put into each detail was amazing. From the Atlanta peaches on the tables to the peach flavored candies for us to take. It was so CUTE! Next up it was time to hear from the lovely panel. But Janee made sure the audience stayed involved! There was a huge beach ball the we tossed around "musical chairs style". Once the music stopped whoever had the ball asked a question to the panel. Shoutout to the Akilah and Michelle who helped host this event and answered all the questions perfectly! They dropped some major gems and advice on how to be a content creator and perfecting your brand.
Let's not forget the uuhhhmaaaaaazing giveaways! Creme of Nature, hangout sponsors, were wonderful enough to send along some poppin swag bags with their newest Pure Honey line. I also won a special giveaway from Lipp Beautifully because I was the first to purchase tickets (yes, i was that hype)! There is nothing better then a day filled with bomb women, outfits thats slay, and a million selfie sessions! Can't wait till the next one!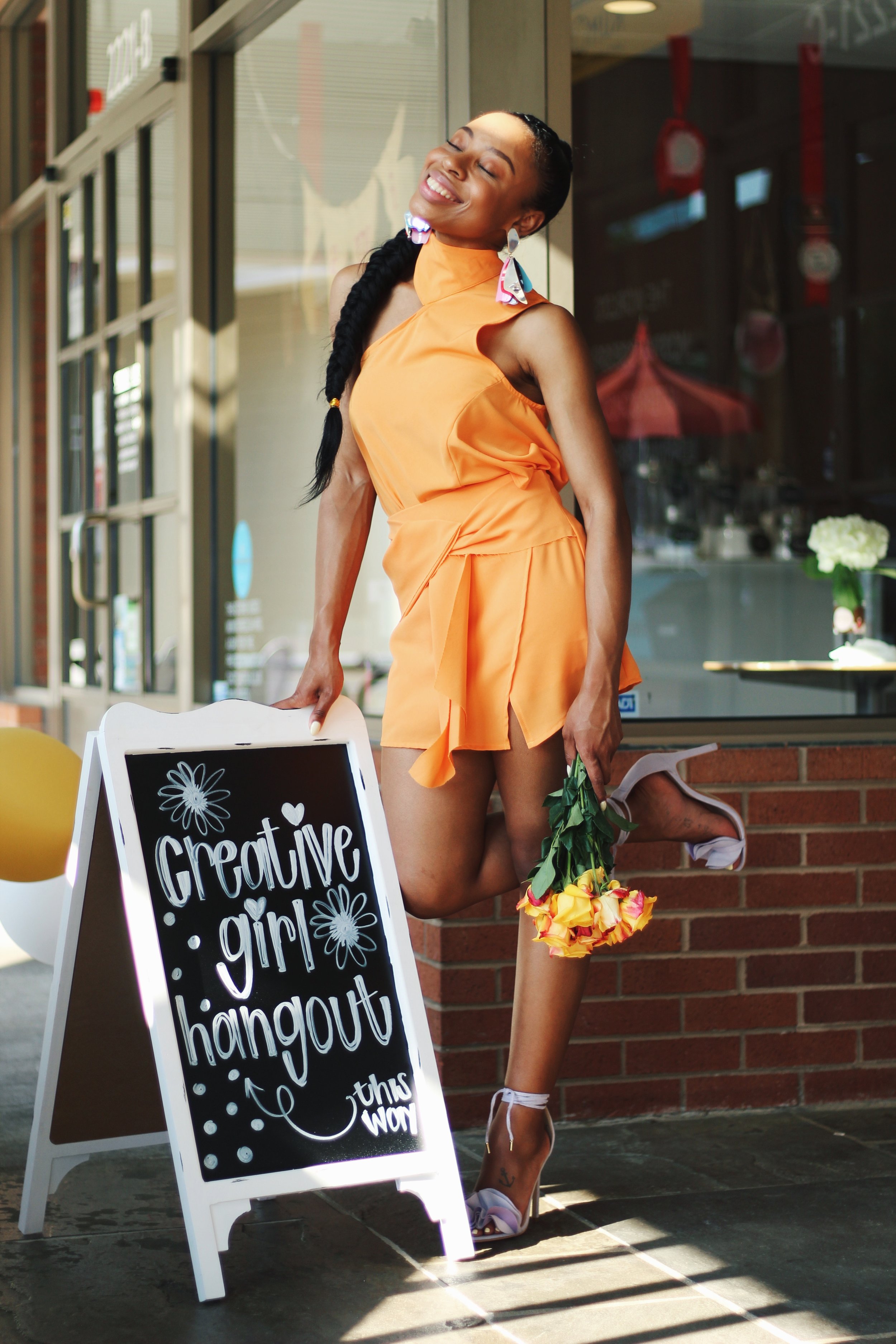 What did I wear you ask?? Welllll, I wanted to dress according to the Georgia Peach theme but stay true to my casual style. So I rocked these BOMB wide legged orange jeans with a cropped graphic tee. Started the day with these really cute silver heels then swapped them out for my signature sneakers vibe. This outfit was sooooo affordable! Thrifted the jeans for about $10 and the tee was from Walmart for $7.50. $17.50 for a whole outfit is my kind of deal! Would you rock bright denim? Let me know!!